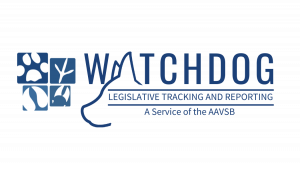 Legislative Tracking Reports Library
Exclusive to the AAVSB's Member Boards, this site is your new tool for staying in-the-know on current legislative, regulatory, and board activity specific to veterinary medicine and pharmacy regulation in the U.S. and Canada.
Colorado to Begin Regulating Veterinary Technicians
Governor Polis' office signed into law House Bill 22-1235 this week, the revised veterinary practice act that includes regulation of veterinary technicians. CVMA and the Colorado Association of Certified Veterinary Technicians have worked jointly since late 2020 to provide for regulation of veterinary technicians as part of the Sunset Review of the veterinary practice act. To read a full summary of the changes included in the sunset review of the Veterinary Practice Act, click here.
The updated Veterinary Practice Act will go into effect on Wednesday, August 10 at 12:01 am. Read the full bill summary here. 
The AAVSB provides this new member service in support of its mission to support and advance the regulatory process for veterinary medicine. New tracking reports are released monthly, available on the last business day of each month throughout the full calendar year.
The AAVSB recognizes Member Boards have increasing needs for new resources that alert them to current issues impacting veterinary boards in the U.S. & Canada. As this online resource center expands, Member Boards will gain a powerful research tool and increase their usability of key legislative advancements.
We welcome ongoing feedback to increase the usability of our report formats to meet your needs, and please provide any update you'd like to share with your fellow Member Boards in next month's report at memberservices@aavsb.org.
Sincerely,
Your AAVSB Member Services Staff