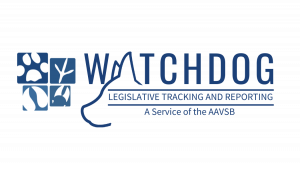 Legislative Tracking Reports Library
Exclusive to the AAVSB's Member Boards, this site is your new tool for staying in-the-know on current legislative, regulatory, and board activity specific to veterinary medicine and pharmacy regulation in the U.S. and Canada.
The Importance of Regulating CBD Use on Companion Animals
The AAVSB recently released the AAVSB Guidance Document for CBD Use on Companion Animals in an effort to:
Establish consistent terminology;
Provide key information on the legality of cannabidiol for U.S. jurisdictions;
Supply practical guidelines for CBD use on companion animals that Member Boards may utilize as a resource for licensees to refer to as a basis for the use of CBD products in a defined treatment plan;
Promote use of safety measures if the Veterinarian is recommending a specific product, including verification that the product has been tested for safety and accuracy of the label and quality of the product being within allowable limits of contaminants.
Attendees at the AAVSB's 2021 Annual Meeting and Conference heard from industry expert Stacey Evans and the AAVSB's Regulatory Policy Task Force on the importance of regulating CBD use. Information from the educational session is newly available in an article here: The Importance of Regulating CBD Use on Companion Animals
The AAVSB provides this new member service in support of its mission to support and advance the regulatory process for veterinary medicine. New tracking reports are released monthly, available on the last business day of each month throughout the full calendar year.
The AAVSB recognizes Member Boards have increasing needs for new resources that alert them to current issues impacting veterinary boards in the U.S. & Canada. As this online resource center expands, Member Boards will gain a powerful research tool and increase their usability of key legislative advancements.
We welcome ongoing feedback to increase the usability of our report formats to meet your needs, and please provide any update you'd like to share with your fellow Member Boards in next month's report at memberservices@aavsb.org.
Sincerely,
Your AAVSB Member Services Staff
Do you have a question, comment, or something you'd like to share on this site?
Email: memberservices@aavsb.org or
Call: Sarah Easter, Senior Manager of Member Services,
(816) 931-1504 x242