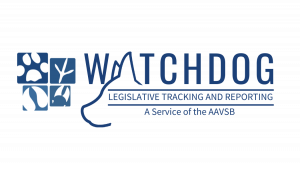 Legislative Tracking Reports Library
Exclusive to the AAVSB's Member Boards, this site is your new tool for staying in-the-know on current legislative, regulatory, and board activity specific to veterinary medicine and pharmacy regulation in the U.S. and Canada.
The AAVSB provides this new member service in support of its mission to support and advance the regulatory process for veterinary medicine. New tracking reports are released monthly, available on the last business day of each month throughout the full calendar year.
The AAVSB recognizes Member Boards have increasing needs for new resources that alert them to current issues impacting veterinary boards in the U.S. & Canada. As this online resource center expands, Member Boards will gain a powerful research tool and increase their usability of key legislative advancements.
In addition to monthly reports, be sure to review the "2021 Inaugural Report," which shares an overview of activity from the first half of the year (January to June). Also, browse our "In the News" section to find conveniently linked news coverage of legislative activity and issues affecting the veterinary regulatory community. Please contact us if you have something you'd like to share with your fellow Member Boards via the news section or in next month's report!
                                                  Sincerely,
                                                  Your AAVSB Member Services Staff
We've provided an abridged overview of all legislative activity and board activity of high interest from January to June 2021.
This introductory tracking report features summaries of 190 bills and several new or amended rules & regulations, plus noteworthy updates from Member Boards and VMAs! All updates are sorted by topic into collapsible categories for easy viewing.
Search through popular bill topics like PMP, reciprocity/mobility, telemedicine, and more by accessing the report via the button below or in the menu bar. 
Do you have a question, comment, or something
you'd like to share on this site?
Email: memberservices@aavsb.org or
Call: Sarah Easter, Senior Manager of Member Services,
(816) 931-1504 x242